Cataract Treatment with the
Phaco Method
Katarakt Şikayetiniz İçin Randevu Alın.
Get Rid Of Your Eyeglasses With The
Excimer Laser Operation!
Doğru Tanı ve Tedavi İçin Hemen Randevu Alın.
At Duzey Eye Health Center, the diagnosis and treatment of eye diseases in children are carried out by specialist physicians with state of the art equipment.
Cataract is one of the most known eye diseases among the public. The loss of transparency of the lens in the eye causes a hazy vision in this disease.
Get rid of your eyeglasses with the Excimer Laser operation!
Glaucoma, also known as "Eye Blood Pressure", is a common eye disease affecting millions of people. If left untreated, it may cause vision loss.
The most general explanation of it is the loss of symmetry of the two eyes. It is one of the eye diseases that can be treated and does not permanently prevent vision.
Contact lens is the apparatus that settles on the cornea which is the anterior part of our eye, temporarily eliminates the refraction defect and provides clear vision during the time it is worn.
Eye Health

Recommendations
Don't Rub Your Eyes!
If you have such a habit, stop immediately. Eye rubbing that appears to be harmless may cause the keratoconus disease.
If you have trouble seeing
You can make an appointment with our specialist physicians.
You can be examined with modern technology.
Pay Attention To Hygiene!
Conjunctivitis, known as eye allergy, is transmitted by the use of common makeup, unclean hands, and common towels.
Our Mission
As Düzey Eye Health Centre, our objectives are to ensure continuous improvement and sustainability in modern diagnosis and treatment with a highly experienced staff of experts and a team consisting of knowledgeable, good-humoured and devoted members, and to offer highest quality health services by prioritising unconditional patient satisfaction in a hygienic and peaceful environment in which our patients would feel themselves safe at every stage of services.
Our Vision
To create difference in science-based and high-quality health services by adopting patient satisfaction as the main principle under the consciousness of social responsibility; use most advanced technologies; establish a knowledgeable, skilful and experienced team; continuously improve ourselves and go beyond all restrictions in improvement; become a preferred workplace by ensuring employee satisfaction; and make a distinguished name in the field by being a reputable and pioneering entity.
Have Regular Eye Examination!
With a routine eye examination, not only eye diseases, but also many diseases from diabetes to high blood pressure can be detected early. Have an eye examination at least once a year.
Computerized Eye Examination
Biomicroscopic Examination
Visual Acuity Examination
Examination of Eyelids
Examination of Eye Muscles
Fundus Oculi Examination
Pay Attention To These Symptoms!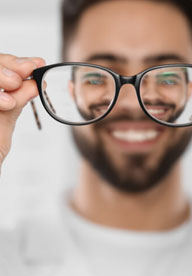 Even if it is temporary, symptoms such as loss of vision, double vision, discoloration in the eye, light flashes in the eye require immediate intervention. If you encounter these symptoms, consult an ophthalmologist without delay.
Stinging and burning sensation in the eyes,
Itching and foreign substance sensation in the eyes,
Sensitivity to wind and smoke in the eyes,
Eye strain,
All these symptoms can be a precursor to dry eyes.